Xaudia Mount-a-mic cables and adapters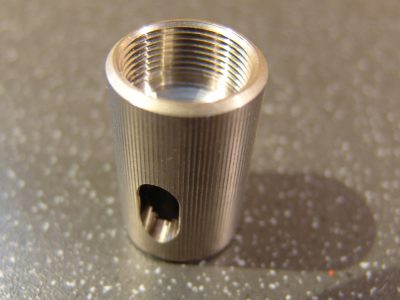 This simple yet cunning part allows XLR plugs to be screwed onto a microphone stand, for quick and easy mounting of any microphone with an XLR output.
The Mount-A-Mic adapter is made of high quality nickel-plated brass, and it simply replaces the cable gland on Neutrik* and other XLR plugs. The cable now exits through the side, and the assembly can be attached to the mic stand. Then just plug the mic in, and go!
We can supply complete cables to order, or just the adapter so that you can make your own cables. Here are some assembly instructions for DIYers.
Please note that we do not recommend using this to mount microphones upside down!
Price list
Assembled Mic-a-mount XLR cables.
We use Canare microphone cable and Neutrik connectors:
Length 30 cm: £21 plus post.
Length 1 metre £23 plus post
Length 3 metres £28 plus post
Length 5 metres £33 plus post
Please ask for other cable lengths.
Parts only
Mic-a-mount thread adapter with female Neutrik XLR plug: £12.50 plus post.
Mount-a-mic thread adapter only: £10 + post.
Here are some assembly instructions for DIYers.
Please contact us if you require additional information or pricing
* Works with Neutrik plugs with a 17 mm thread.
£ see description
Condition: New
Stock code: Mount-A-Mic