OK, this might be a little bit controversial: the M500 is my least favourite ribbon microphone from Beyerdynamic. This is for a number of reasons. I'll list them.
The transformer rolls off a lot of bass. More so than an M260.80.
The grill has a dense cloth screen which also reduces the bass response.
The internal baffle has a plastic plate in front of the ribbon which robs yet more bass and causes other problems, as I will explain in a moment.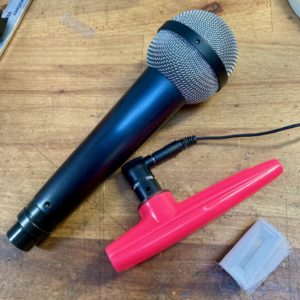 Beyer M500 and a Kazoo. Can you tell the difference?
These three points are all intentional parts of the design. The M500 was intended as a vocal microphone and designed to be used at point blank range. The severe bass cut compensates for the proximity of the ribbon, and the extra screening and baffle protect the ribbon from plosives and other blasts of air. So to some extent you have to take your hat off to Beyer and say 'chapeau' for making a ribbon that can compete with an SM58.
But that's my point really. Ribbon mics naturally have a big rich proximity effect, which is one of the things that we love about them. In the M500 a lot of work has gone into removing that sound. To my mind, the M500 is good for one job only (close up vocals), and there are other microphones that do that job better. If you like to chew your microphone then you might as well use an SM58 (or better still a Beta 58), and use a ribbon for those places where it excels.
These microphones are no longer made but change hands on eBay and Reverb at inflated prices. I think the biggest issue with them is expectations. Some buyers expect them to sound close to, say, an M260, and are disappointed when they don't. In particular they sound very thin when used on instruments at a normal recording distance. At Xaudia we often get asked to modify these mics to have more bass and have more of a classic ribbon sound.
The motor and ribbon are more or less the same between the two mics, but everything else is different. It is possible to get a better bass response from the M500 by swapping out the transformer for a full range model*, which helps a lot. But the mic can still sound odd because of what is in front of the ribbon.
So let's get back to that baffle that I mentioned in item number 3. Here at Xaudia we call this the 'Kazoo Flap'. Let's take a look at it.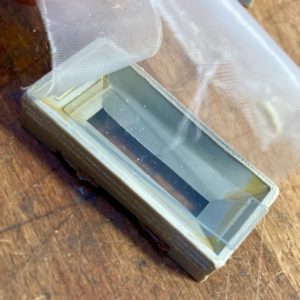 The M500 "Kazoo Flap". This bit of perspex causes trouble.
You can see that there is a flat piece of clear plastic in front of the ribbon. The problem here is that is can vibrate and come loose over time. I often see these come unstuck at one end and it can vibrate like the reed on a clarinet or saxaophone. It sounds like a kazoo solo has been added to every recording!
Luckily it easy to fix. The baffle can be re-glued or removed completely. I often do the latter and replace it with some fresh acoustic fabric and steel mesh.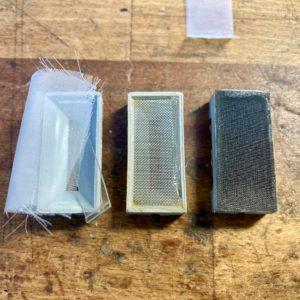 M500 baffle modifications.
Swapping the transformers and the baffle gets the M500 as close to an M260 as it can be. The grill construction and the acoustic chamber behind the ribbon are different between the two microphones so they can never be quite the same, but the changes improve the bass response by huge amount and, to my ears, make it sound like a proper ribbon microphone.
Beyer M500 – designed for close up use on vocals.
* We make a suitable full range transformer that will fit inside an M500.