Last week I posted about repairing some vintage Decca London ribbon tweeters. I was confident that I had done a good job but was unable to do listening tests in context as I only had the tweeters to play with. These are now back with Andy, their owner, who kindly sent in his impressions and some photos. Overall I think we have done a good job and it's a nice feeling to have helped get these back up and running.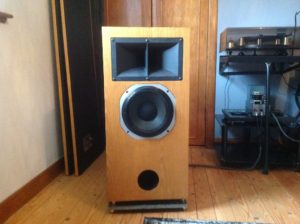 Decca Volt speaker with ribbon tweeter
"The [new] ribbon sounds smooth, crisp and clear with no tizz or distortion. I ran it for a while at different volumes and with different music and it sounds excellent with everything I gave it. It is very close in sound to the original in the other speaker with the soundstage being in the middle and correct. I had to try hard to notice a difference, Bob Marley's Is This Love has some high frequency cow bell drum noises and you could hear they were slightly crisper and louder from the new ribbon. The crossover point in the Volt's is about 1200hz so any imbalance between the two tweeters is easily heard as the singer tends to move off centre.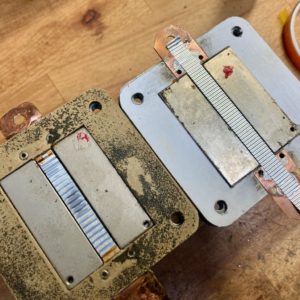 New ribbon installation at Xaudia
"I think the differences could be classed as being between an old and new ribbon the sound from them is so close. I assume as the new ribbon breaks in it will soften in sound a bit. I am tempted to switch the other new ribbon in as well.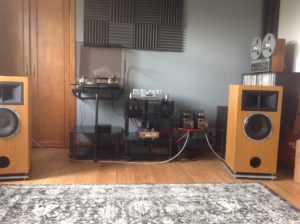 Andy's impressive hi-fi setup.
"Considering the lack of info on the ribbons I thought getting a close match sonically was not good but it's turned out to be very close indeed. It is a huge relief to know that if a ribbon gets damaged again I can get help.
"I am not sure but you might get a lot of interest, when I was trying to find someone to repair my ribbons I came across a huge amount of forum posts on the same issue dating back about 5 years. Nobody had managed to find anyone so in theory there are a lot of ribbons to repair out there."
Thanks to Andy Mcgregor.